Madison Family, This is a reminder that there will be no school on Election Day, Tuesday, November 8th and on Veterans Day, Friday, November 11th.

Parent Reminder: We have a 1 hour early release tomorrow. All car riders, walkers and bus students will be dismissed to go home an hour early tomorrow. Also, we have parent-teacher conferences tomorrow from 4-7pm and Friday from 9-12. There is NO SCHOOL ON FRIDAY. See you at conferences!

Parent Reminder: Each student was asked last week to bring in a bag of candy to share at our "Trick or Treat" event this Wednesday. Please make sure that your child has brought in a bag of candy to share by tomorrow. Thanks!

Reminder: Tomorrow is Picture Day at Bernard Long! Dress to Impress!

Please see attachments for more details about the Homecoming Parade and Homecoming Dance this weekend.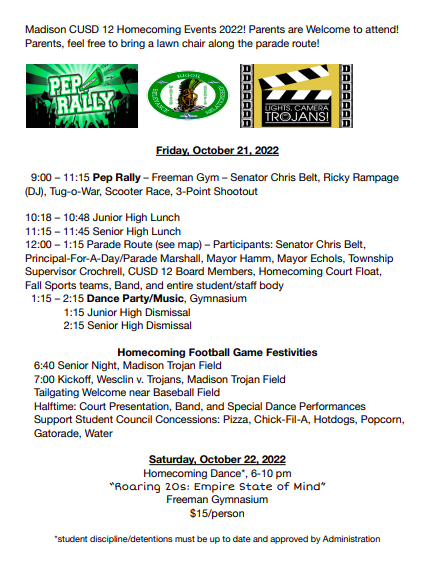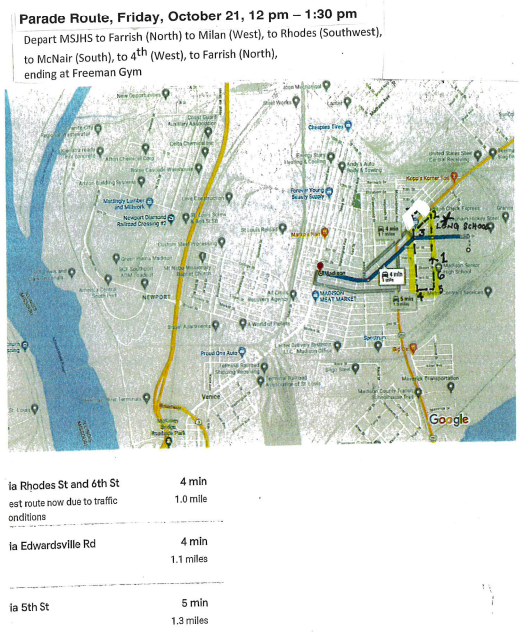 IT'S HOMECOMING WEEKEND!!! Come out and cheer us on as we parade the school grounds and surrounding area tomorrow at noon. We will be featuring our Cheer Squad, Football Team, Mayor Hamm, Senator Belt, Madison Fire/Police Dept., our Homecoming Court, and many others! You don't want to miss it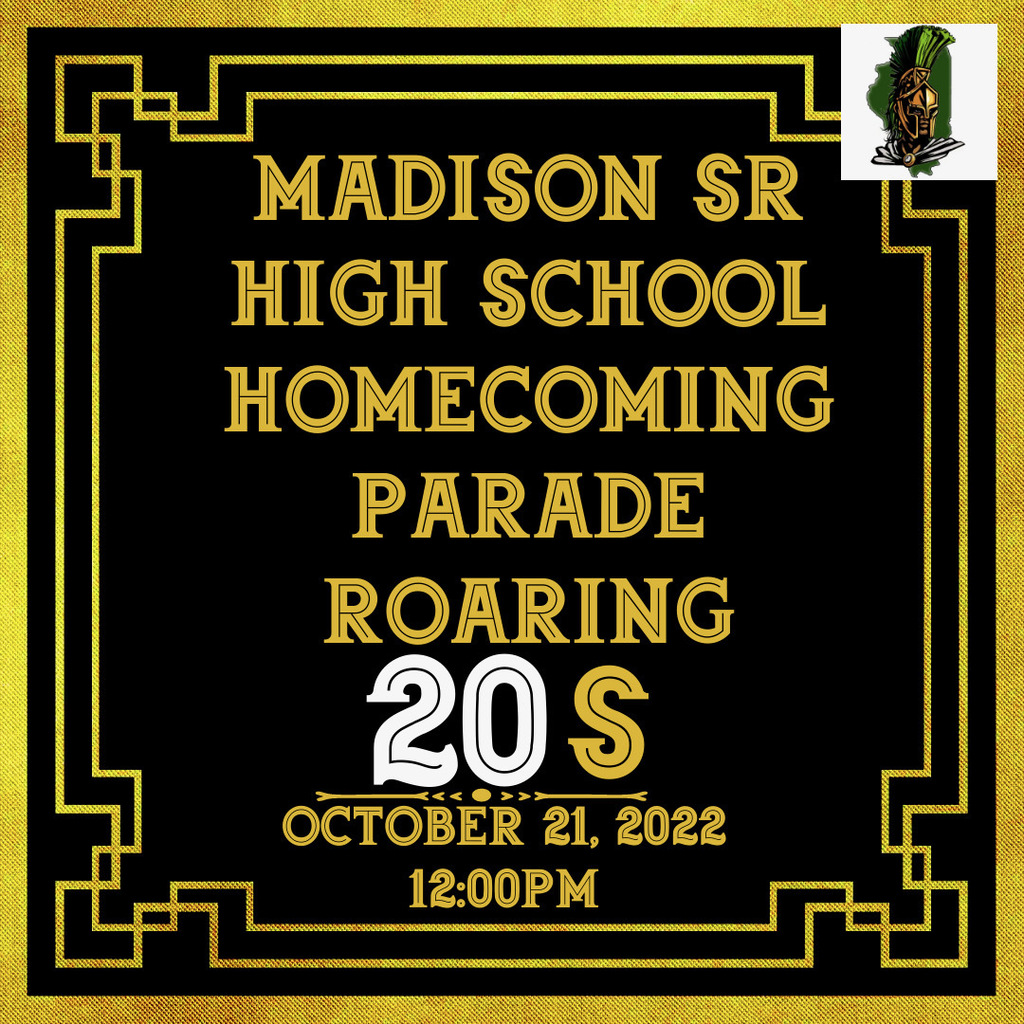 Today is our Cold Stone Fundraiser!!! Please support our students if you're in the area. We will earn 10% of the proceeds between 4pm - 8pm. We appreciate your continued support!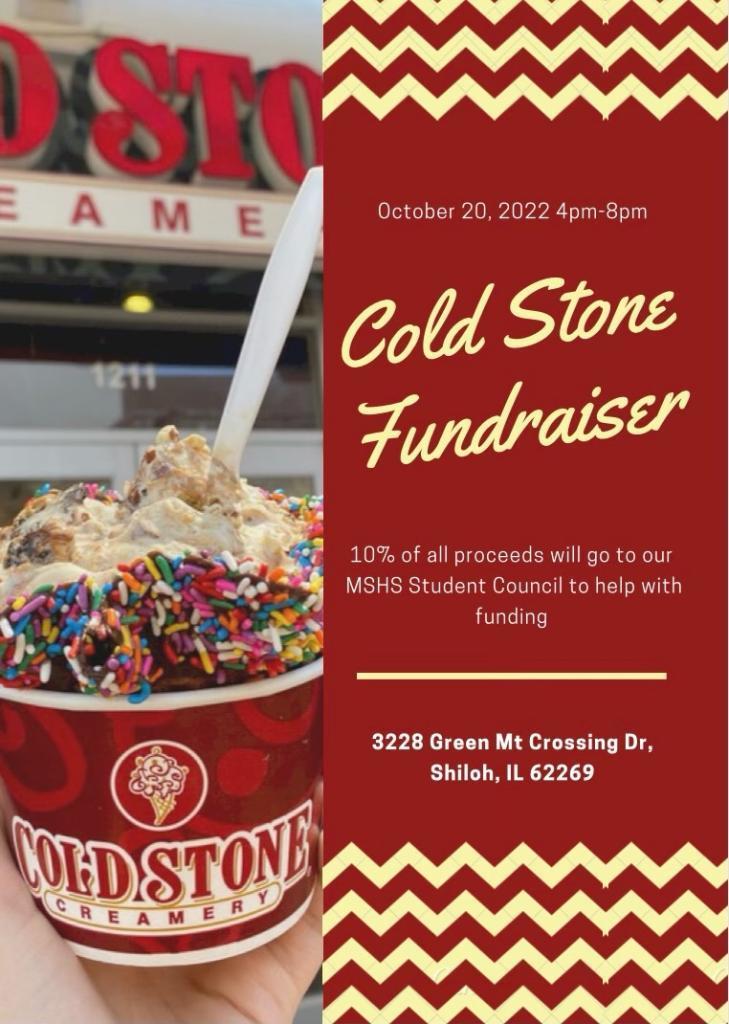 BLE Spirit Week 2022 "Trojan Proud" October 17th - 21st Monday - Crazy Sock Day! Wear your craziest looking socks to school. Tuesday - Hat Day! Wear your favorite hat. Wednesday - "Whacky Tacky"Day! Wear mix matched clothes. Thursday - "Crazy Hair Day! Be creative with your hair style! Friday - "Pajama Day!" Wear your favorite pajamas to school. This is also "Pumpkin Drop"Day, so dress according to the weather. Enjoy your weekend!

Dear Parents/Guardian, With the end of the first quarter approaching we wanted to remind everyone about expectations for school attendance and the reporting of absences. The instructional day at Bernard Long Elementary begins at 7:40am and finishes at 2:10pm. It is expected your student will be in their classroom ready to learn by the beginning of the first class period, 7:40am. Please make sure to have your student at school early enough that they have time to eat and participate in the morning meeting. Students can be dropped off beginning at 7:00am. The end of the school day is at 2:10pm. If you need to make arrangements to pick up your student early for an excused absence such as a doctors appointment, please call the school office before 12:30pm. If your student will be absent due to an illness or unforeseen event please call the school office as soon as possible to notify them of your students absence. Students arriving late to school will be as tardy which is an in excused absence. Failure to notify the office if a child is out sick or due to an unforeseen event will result in your student being counted as unexcused. We strive to maximize the educational time we have with your students and appreciate your support in helping them achieve to their high standard.

Parents: Students can "Dress Down" tomorrow since we do not have school on Friday. No "slides" are allowed! Have a great evening!

SIGN UP FOR FASFA THURSDAYS!!! ​This event is to assist you with completing the Free Application for Federal Student Aid. Scan the QR code to schedule your appointment!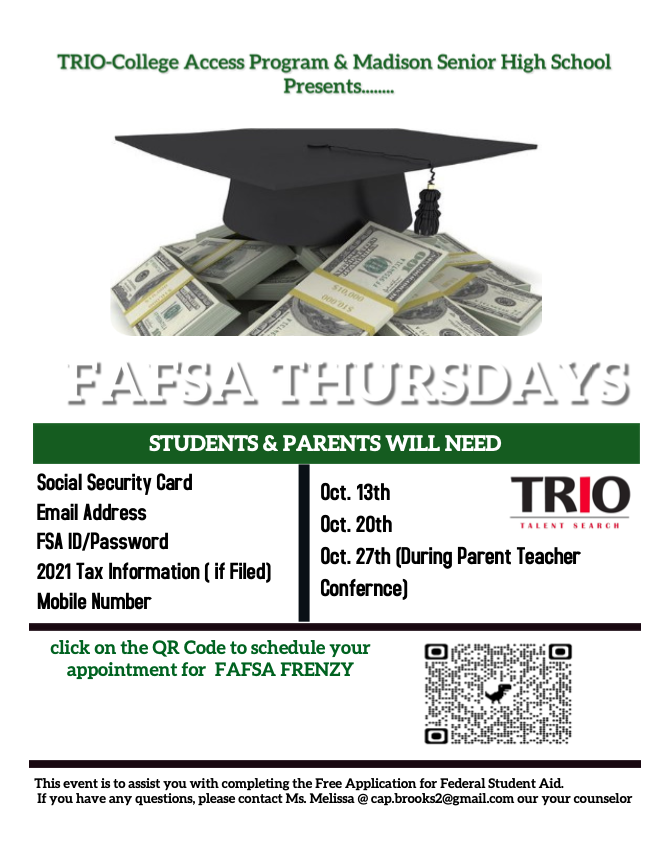 It's time for SAT PREP!!!! Sessions are designed to develop self-esteem and confidence in test taking skills. Wednesdays 3:30pm-5:30pm |Saturdays 10:30am-12pm at Madison Senior High School. LET'S WORK!!!!!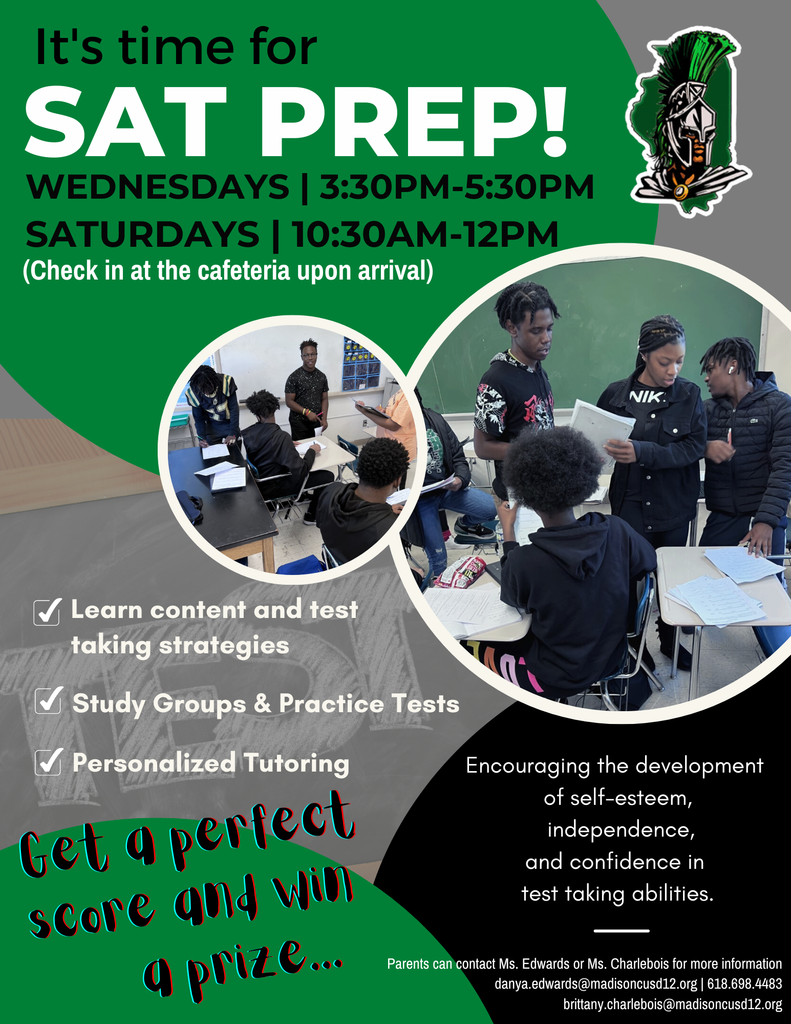 We wanted to remind everyone that Friday, October 7th is the Madison County Teacher Institute and there will be no student attendance this day. Monday, October 10th the district will be closed in observance of Columbus Day. Classes will resume on Tuesday, October 11th.

Madison Trojans defeat TDW Academy 49-0.

Madison Trojans lead TDW Academy Jaguars 43-0 @ Half.

Friday Night Lights - Madison Trojans vs TDW Academy Jaguars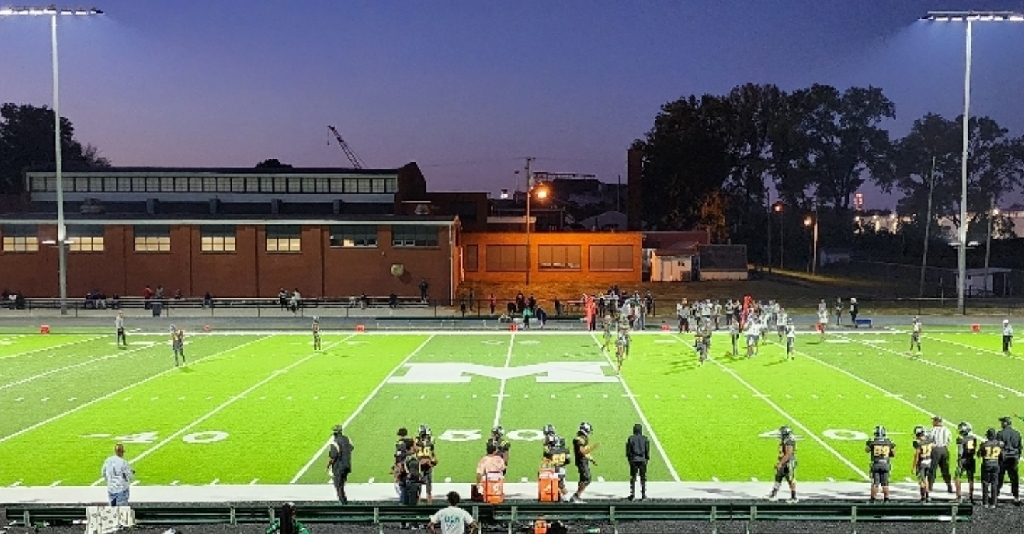 Dress Up and Suit Up Sunday October 2, 2022. 10am-2pm Harris Stowe State University Performance Center Register at
www.hssu.edu/wardrobe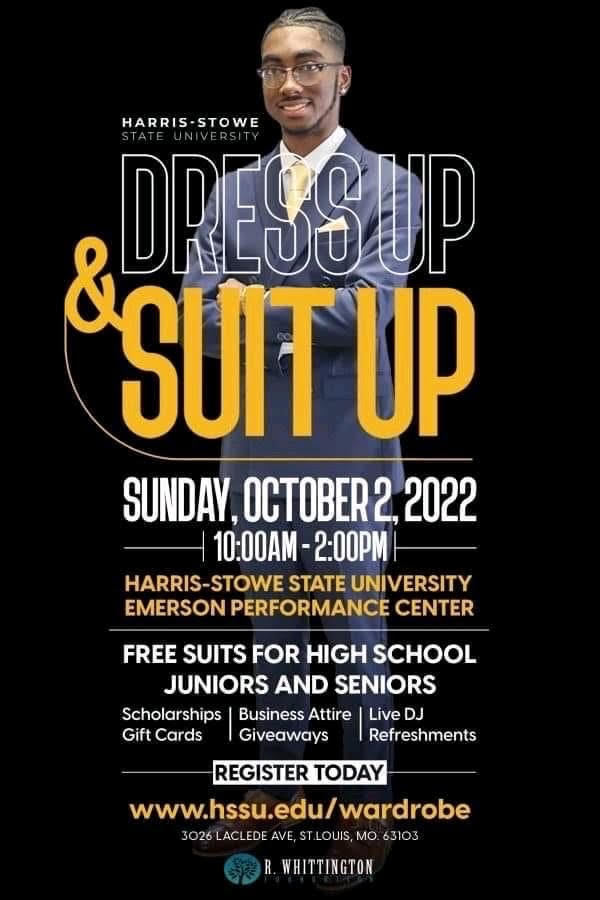 Madison Families, We wanted to remind you that students will be dismissed early on Wednesday, September 21st. There is a half day teacher institute scheduled for the afternoon. The release times for Wednesday are as follows: High School - 12:18pm Jr. High - 11:30am Long - 10:35am MSSC - 11:45am

Good Evening! We have vision/hearing screening this week at Bernard Long for ALL Students (PreK - 5th). Please be sure that your child is at school. This screening is mandated by the state and is very important. Thanks for your support! Enjoy the rest of your evening!

Parents: Tomorrow is "Dress Down" at Bernard Long Elementary. Students do not have to wear our school uniform. Please be sure that clothes are appropriate for school. No slides are allowed. Enjoy the rest of your day.