Reminder: Picture day tomorrow! Students should bring their envelope with their money for the picture package that you desire to purchase. Enjoy the rest of your evening!

MJHS Parents & Students, Just a reminder, all Bobo's Pizza Orders and Money are due TOMORROW, OCTOBER 25th. Please turn orders and cash money (NO CHECKS) in to Mrs. Root-Smith when you enter school tomorrow. Thank you again for your participation in our fundraiser. Anyone whose child or relative did not sell Bobo's but would like to place an order, feel free to do so online here:
https://orderentry.giftkey.org/BOBOSPIZZA/Home/StudentOrderHomePage
. THANK YOU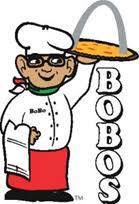 Reminder Jr High Parents & Students, We kicked off our Bobo's Pizza Fundraiser last week!!! All monies collected will go to help pay for field trips, student rewards/incentives, and EXTRA fun things that we do for our kids!!! All cash money is due on October 25th. Orders will be at the school for pick-up on November 19th. EVERY student has received an order packet, along with details for ordering, setting up an online account, and rewards for items sold. If you have any questions, please contact Mrs. Root-Smith @
jennifer.rootsmith@madisoncusd12.org
or contact the Junior High Office. As always, Thank you for your Support!!!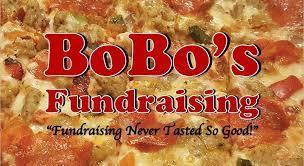 Reminder, tomorrow concludes our Homecoming Spirit Week activities with Spirit Day!! Come dressed in Green and White and show off your Spartan/Trojan Pride!!!

Homecoming Spirit Week Continues Tomorrow (Thursday, October 14th). Come to school in Mismatch Dress!!! We can't wait to see ALL your creative mismatches.

Parents: We will have an 1 hour early dismissal on this Friday, October 15 for grades K-5 only. Students will be dismissed an hour earlier than the normal school day. Please mark your calendars. PreK will attend school and be released at their regular time. Have a great day!

Madison Junior and Senior high Students & Staff, Homecoming Spirit Week continues tomorrow, Wednesday, with Dress like a Celebrity!!! We can't wait to see all the celebrity look alikes tomorrow!!!

Reminder to Parents/Guardians of PreK, Kindergarten and 1st grade students: Please have full physicals/immunizations turned in to the nurse by Friday, October 15. Students will not be able to attend school without these turned in due to Illinois state regulations. Thanks!

Parents: Reminder that there is no school tomorrow, October 8 or Monday, October 11. Have a great weekend!

Madison Family, the Madison School District will be hosting a COVID-19 vaccination clinic in the high school gym from 9-3 on October 12th. This clinic is open to anyone ages 12 and up. Children under the age of 18 will need an adult present to receive the vaccine.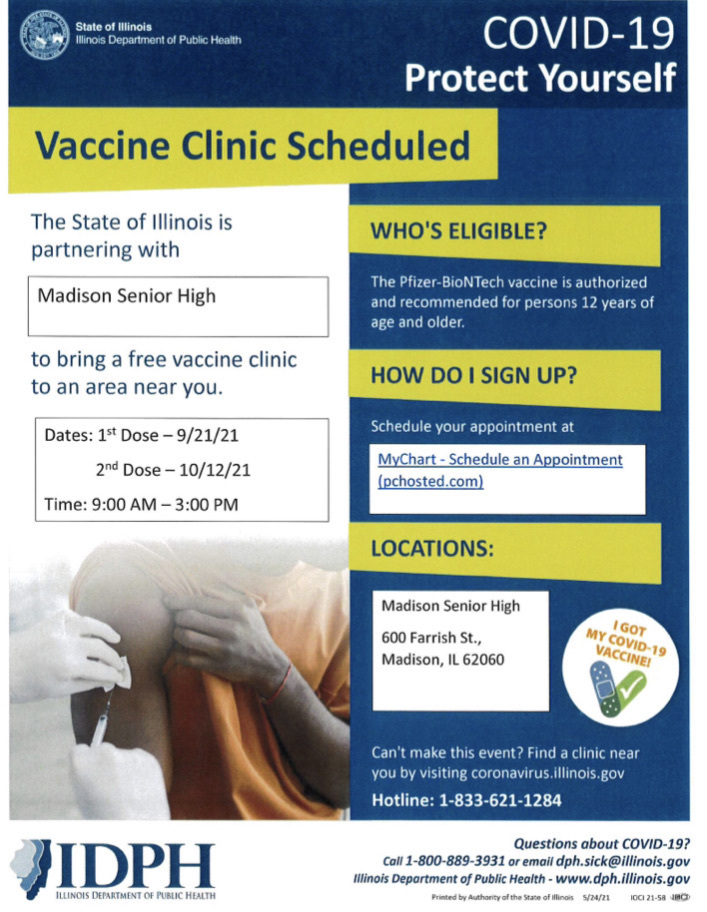 Greetings Parents: There is no school this Friday, October 8, 2021. Please make note of this date. Students will also be out of school on October 11, 2021. Month of October 10/8/2021 - Teacher Institute Day (No School) 10/11/2021 - Columbus Day (No School) 10/15/2021 - End of First Quarter 10/25/2021 - Picture Day at Bernard Long Elementary 10/28/2021 - Parent-Teacher Conferences, 4 -7 pm 10/29/2021 - Parent-Teacher Conferences, 9 am – 12 pm Enjoy your week!

Madison Junior High School Parents, we look forward to seeing you this evening for a Parent Meeting in the Auditorium from 5:00-6:00. We will discuss student updates, important dates to remember, the 2022 8th Grade College & University Trip, along with kicking off the Bobo's Pizza Fundraiser. See you there!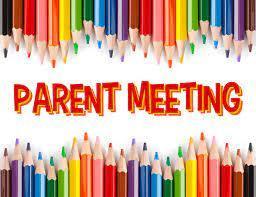 Parents: Per the district office, parents and community members are not allowed in the school building during the school day. This includes Pre-K through 5th grade. If you need assistance, please call the school or use the buzzer and intercom in the front of the building. Thank you!

Madison Families, The school year is off to a great start! We want to thank you for partnering with us to educate your students and keeping everyone in school buildings safe. There are a couple of items we wanted to bring to your attention. 1. In the interest of safety patents and community members are not allowed in the school building during the school day. This applies to Pre-k through 12th grade. We are working hard to limit exposure to COVID-19 and maintain a healthy environment. If you need assistance please call the school or use the buzzer and intercom located at each school building. 2. The policy of the district is that student cell phones are to be off and away. Students should not have their phones turned on during class time as it interferes with the learning process. Please do not call, text, or message your student during the school day, students caught using their phones in violation of school policy will be subject to disciplinary action. If you need to contact your child during the school day please contact the school office. 3. It has been brought to our attention that cars often pass our school busses while picking up or dropping off students. When a school bus is stopped and has its stop sign out all traffic is required by law to stop. This is so that students may safely enter and exit the bus. Individuals who violate this law will have their license plate number reported to the police. The last year has been full of changes and we are doing our best to return to a normal school routine as much as possible. We appreciate your help in making sure all students have a positive experience and an awesome year.

Parents: We will have a half-day this Friday, September 24. Kindergarten through 5th grade students will be let out of school at 10:30am. Our Pre-K students will not be in attendance the entire day. Please mark your calendars. Have a great evening!

Madison Family, You should have received information about the SHIELD COVID testing. We hope you will choose to opt your student into this voluntary testing program. Testing is an opportunity to protect students and staff in the district. Please return your opt-in forms as soon as possible.

Madison Family, The Madison School District will be offering a COVID-19 vaccination clinic tomorrow, September 21st in the Sr. High gym from 9:00-3:00. This clinic is for anyone age 12 and up. An adult will need to accompany any child under the age of 18.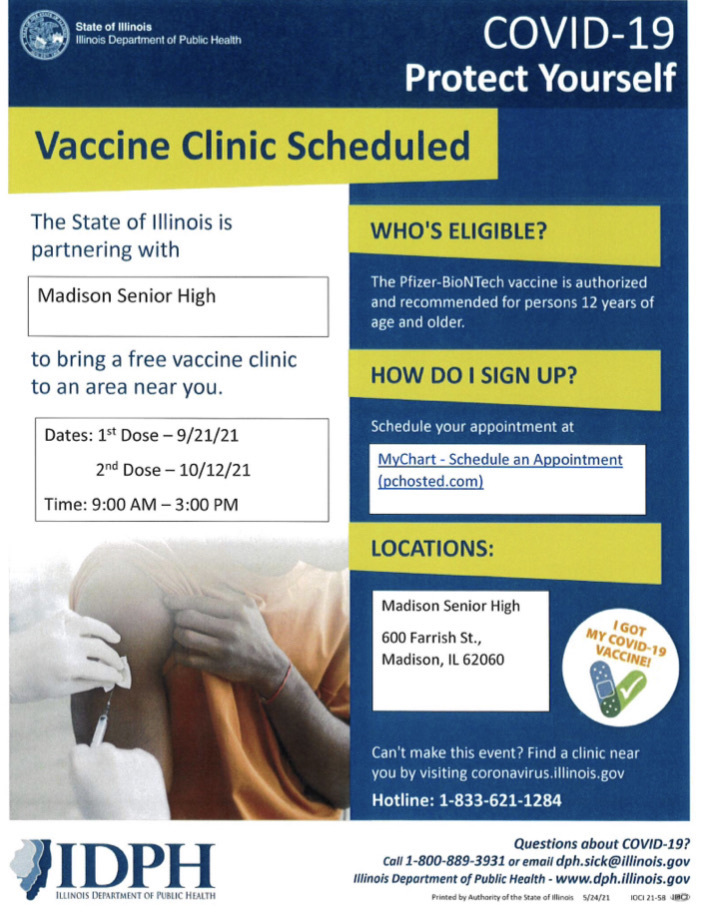 Parents: We are looking forward to seeing you this evening for our "Open House." Everyone entering the building must have their temperature checked and be wearing a mask. We appreciate you stopping by to meet with the teachers and to see what your child does daily. See you soon!

Madison Family, The Madison School district will be implementing weekly COVID-19 testing to help protect students and staff. This testing is in partnership with the University of Illinois and is called SHIELD testing. This test is much easier as it only involves collection of saliva rather than the traditional nasal swab. Results of the testing are reported in 24 hours and families will have access to your students' test results through a secure website. Testing is an important tool in helping manage COVID-19 so schools can remain open to educate our students. You will be receiving information about the SHIELD testing along with a form to sign up for weekly testing. Please complete the form and return to your student's school building. They will then be added to the testing roster. Testing is tentatively scheduled to begin the last week of September.

Parents, don't forget "Open House" at Bernard Long Elementary this Wednesday, September 15. Everyone has been given a specific time to come into the building to avoid having large crowds. Your child's teacher has scheduled a time for you to visit our "Open House." This time should have been communicated to you. Please contact the teacher if you don't have your time or if a better time would work for you. Looking forward to meeting you on Wednesday. Have a good evening!