Madison CUSD #12 to offer summer food program. Please see attached flyer.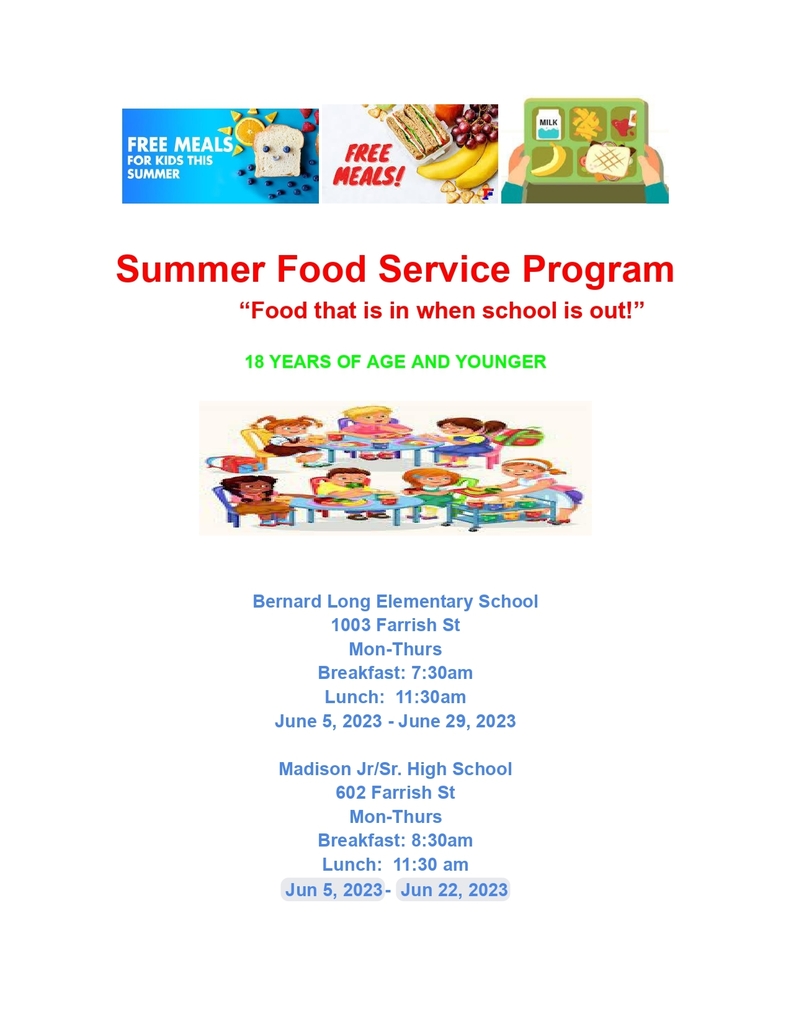 Madison CUSD #12 is hiring. Please see flyer!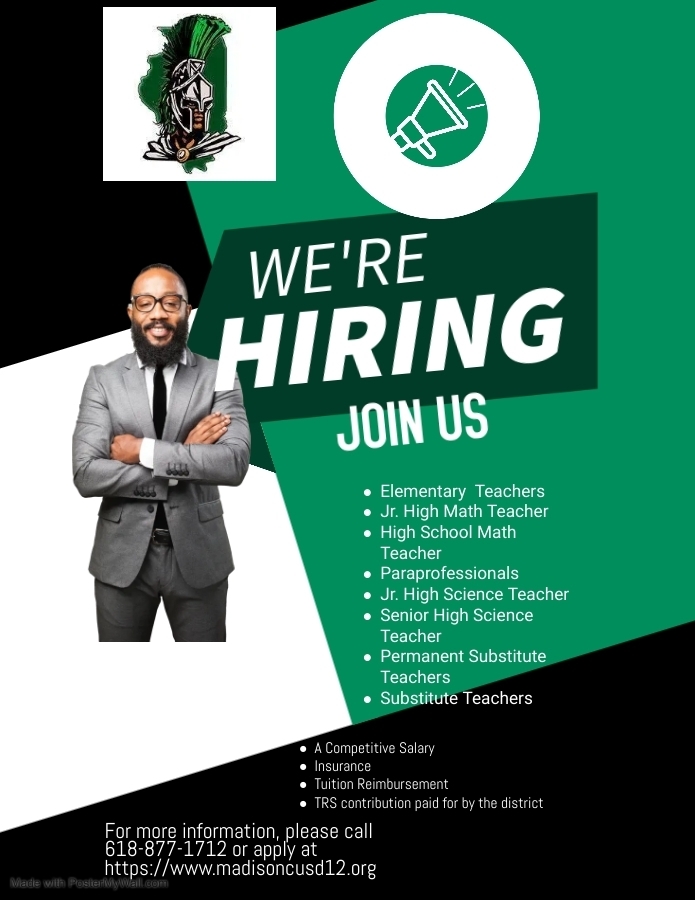 Pre-K Registration May 22-25 at Bernard Long Elementary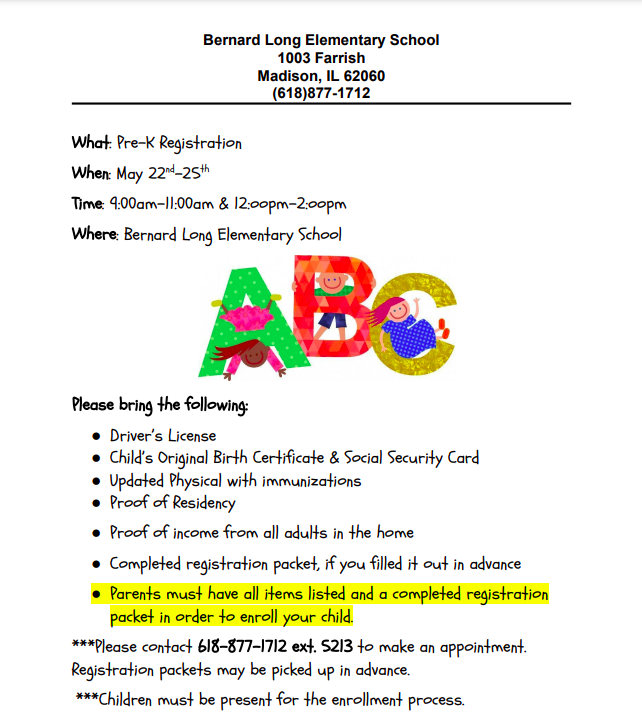 Please support Student Council as we fundraise to help with funding future events for the high school. Funds will be used to host events for the student body. Please share, shop, and invite your friends and family to support us!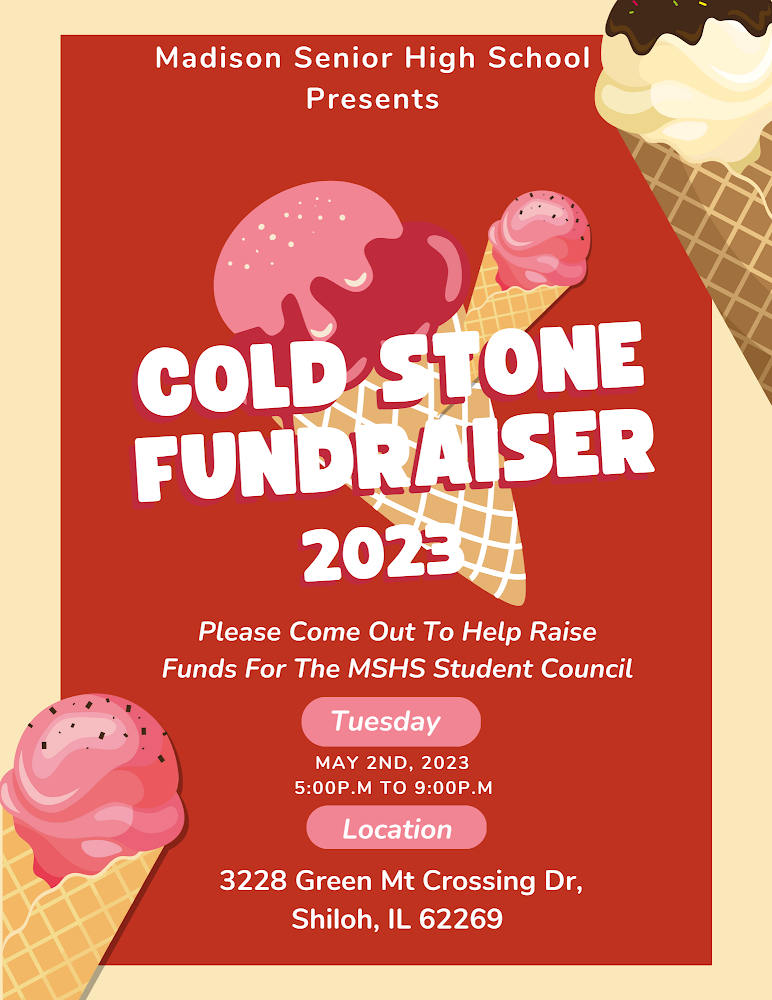 Parents: Just a reminder....The last day to collect money for our Mother/Son and Father/Daughter Dance is tomorrow by the end of the school day. Enjoy your evening!

Reminder: Tomorrow is "Pajama Day" at Bernard Long! No slides are allowed! Have a good evening!

Reminder: Tomorrow is "Picture Day" at Bernard Long! Students should bring their picture envelope with their money/check. Parents may also go online to purchase pictures. Looking forward to seeing those cool outfits!

On March 28th ten students, two teams, of high school students from Madison CUSD #12 competed in the Madison County Senior Olympiad. At the Olympiad, students competed against students form 14 high school teams from around Madison County in academic and STEM areas. Out of the 14 teams competing in the Olympiad, the 2 Madison High School teams finished 2nd and 3rd. Way to Go Trojans!!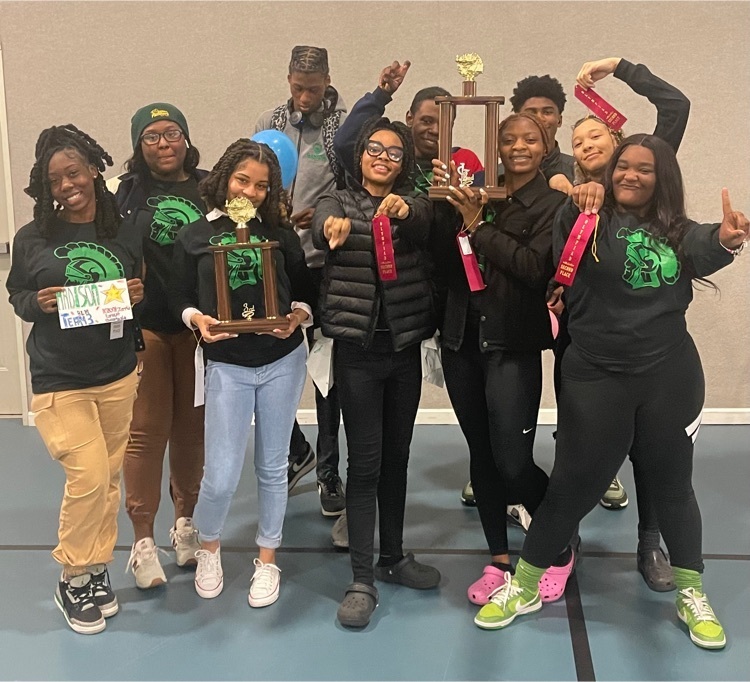 Tomorrow is "Crazy Hair Day" at Bernard Long Elementary! Looking forward to seeing the many different hair styles!

Reminder: Tomorrow is "Mix and Match" Day at Bernard Long! Wear clothes that do not match. Can't wait to see your outfits! Have a good evening!

It's Spirit Week at Bernard Long Elementary! Monday - Mix and Match Day Tuesday - Crazy Hair Day Wednesday - Dress like an older person Day Thursday - School Spirit Day - It is also Picture Day Friday - Pajama Day

'The Trojan Band will perform: Sunday, March 12, 10:45 pm Bethel AME Church 1035 Market Street Mr. Bernard Long, Band,Director/Speaker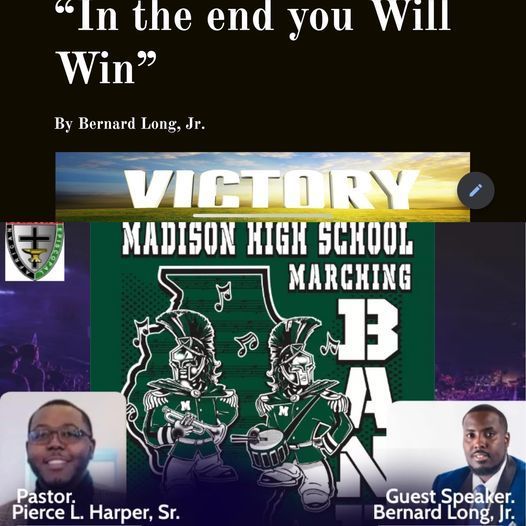 Bernard Long Families, We wanted to remind everyone that the school day for K-6 starts at 7:40am and are expected to be in their classroom ready to learn. Please have your students at school no later than 7:30am to allow them time to eat breakfast. Students arriving after the start time are considered tardy. PreK starts at 9:00am, please have students at school by 8:30am. The dismissal time for K-5 is 2:10pm and the dismissal time for PreK is 3:00pm. It is important that your student is in attendance for a full day of school. Students leaving before the end of the school day will be counted as absent for a half day. If you need to pickup your student early such as a doctors appointment or to change the way they are getting home call the school office by 12:30pm to make arrangements. Thank you for your assistance in helping us provide the best education possible for your student.

Calling ALL Madison Jr. High Students. Get your "fits" and sneakers ready!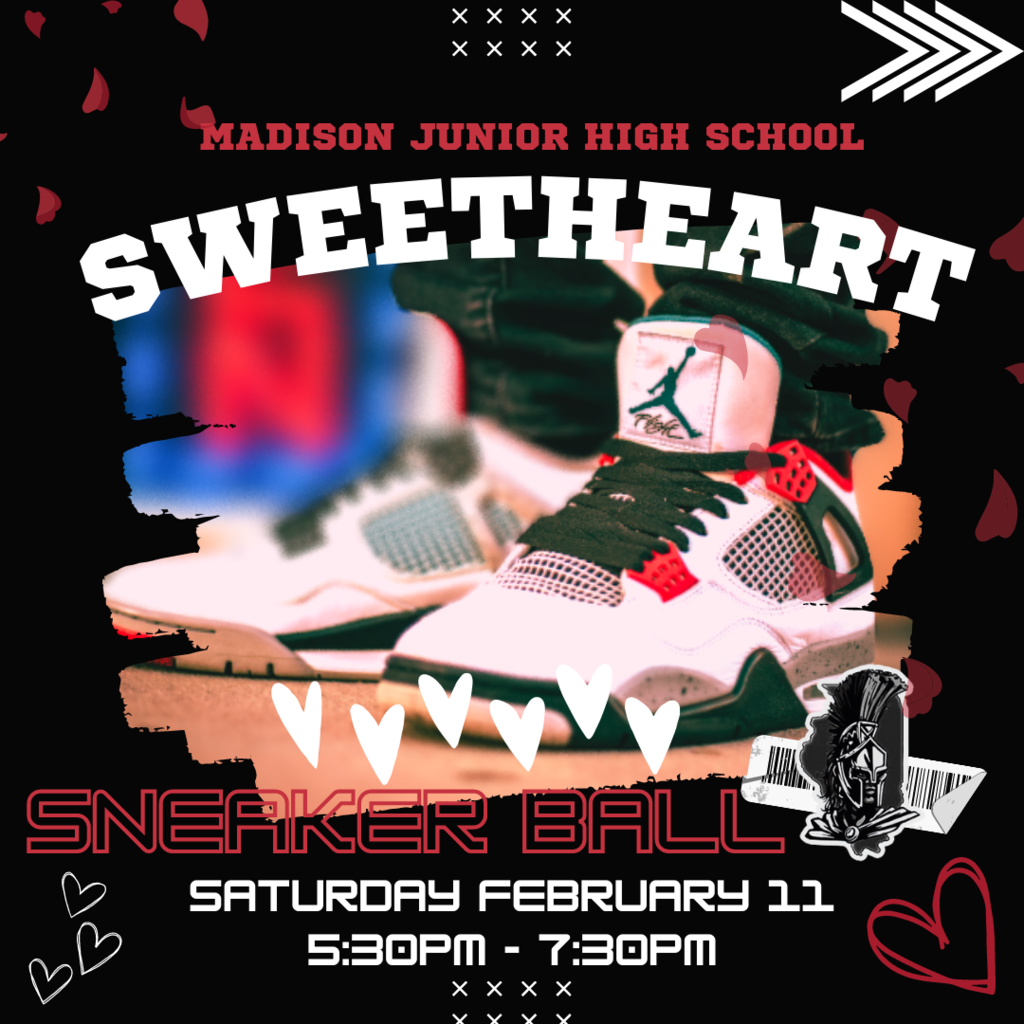 Madison Senior High School Student Council is fundraising at Chipotle! Please join in supporting our future events by visiting Chipotle on February 1st. If you cannot make it in, you can also order online using code: X9KTDMR.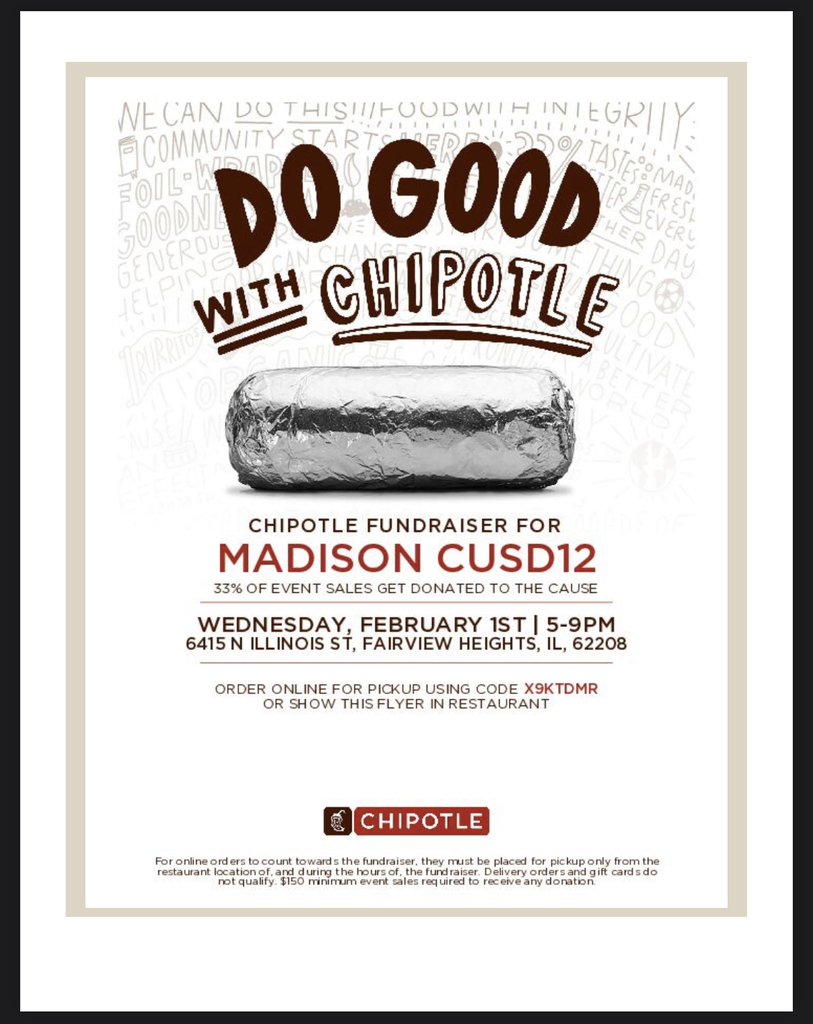 Thank you to everyone who shopped and donated to Madison Senior High School Student Council's Holiday Store. We truly appreciate your participation! As promised, we will be conducting the raffle at our first meeting in January 2023. We will be in contact with the winners :)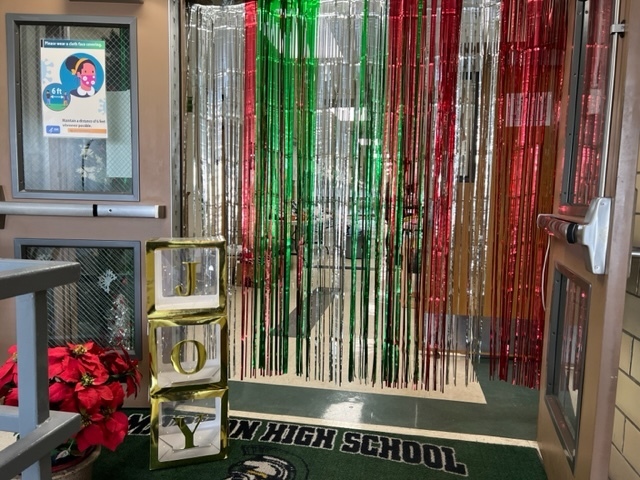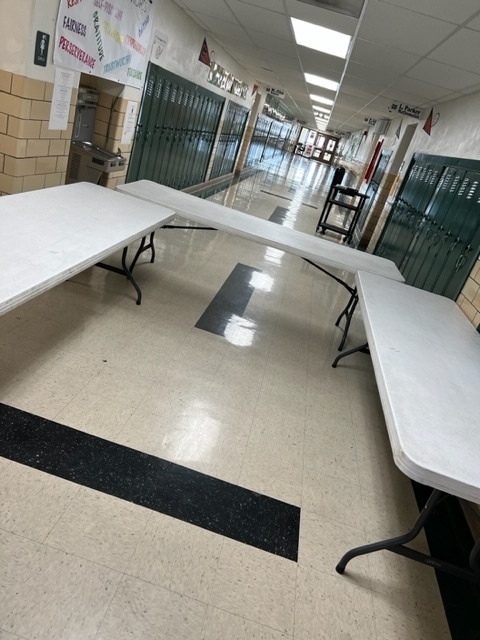 Good morning! It's still time left to grab some amazing gifts for your loved ones. There are plenty of brand-new toys, clothes, and shoes to choose from. Everything is FREE. Today is the LAST DAY. Enter through auditorium doors upon arrival or call (618)698-4483 to be let in! :)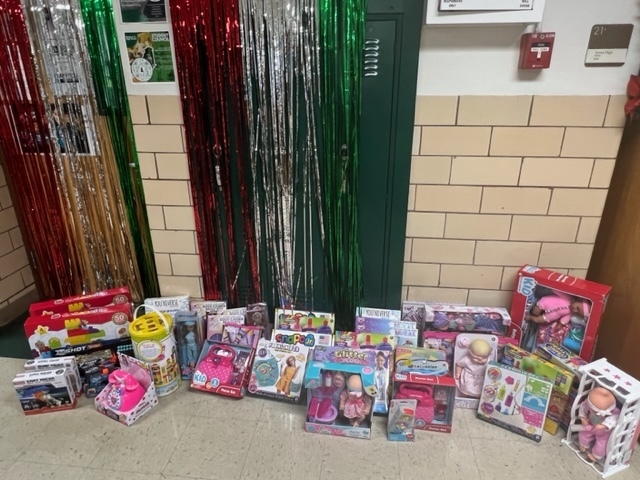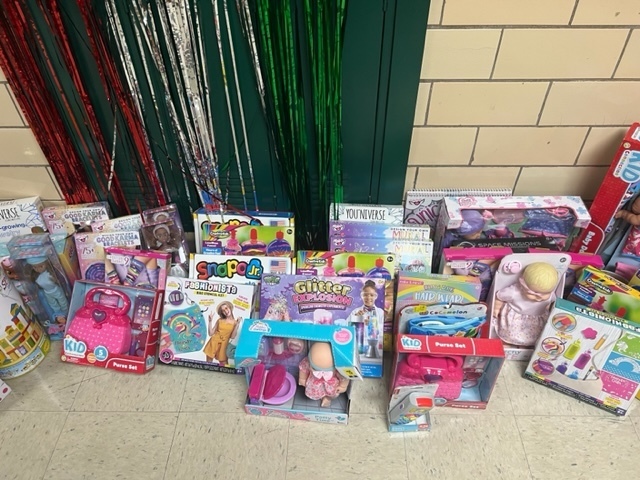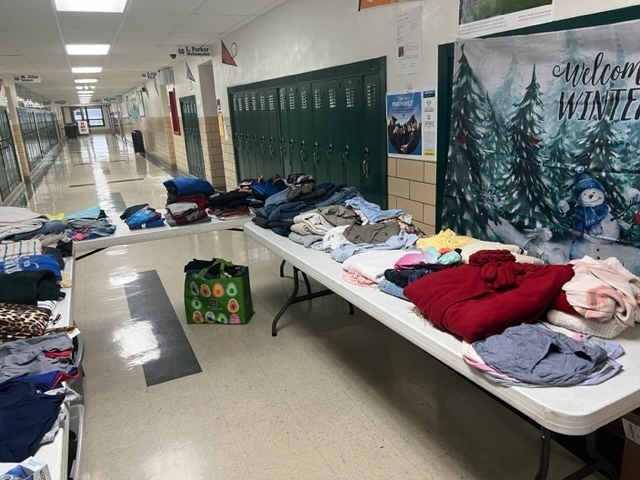 Parent Reminder: We have a 1 hour early release today. All car riders, walkers and bus students will be dismissed to go home an hour early today. Happy Holidays!

Good evening Parents: Tomorrow is December 15th - Christmas warmth day -Wear something flannel. Thanks.