Madison Family, The Madison School District will be offering a COVID-19 vaccination clinic tomorrow, September 21st in the Sr. High gym from 9:00-3:00. This clinic is for anyone age 12 and up. An adult will need to accompany any child under the age of 18.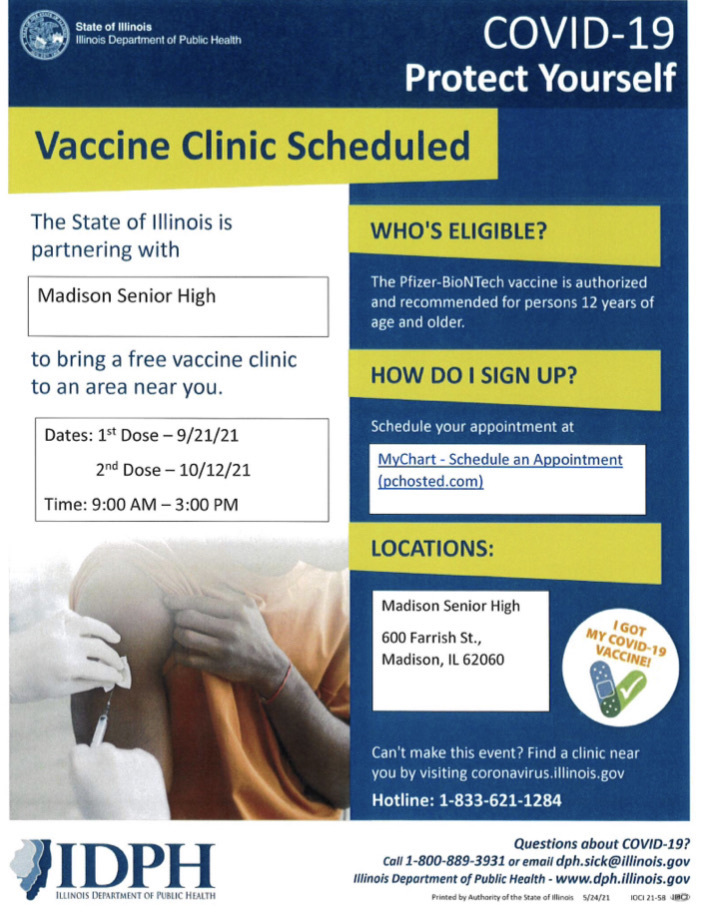 Parents: We are looking forward to seeing you this evening for our "Open House." Everyone entering the building must have their temperature checked and be wearing a mask. We appreciate you stopping by to meet with the teachers and to see what your child does daily. See you soon!

Madison Family, The Madison School district will be implementing weekly COVID-19 testing to help protect students and staff. This testing is in partnership with the University of Illinois and is called SHIELD testing. This test is much easier as it only involves collection of saliva rather than the traditional nasal swab. Results of the testing are reported in 24 hours and families will have access to your students' test results through a secure website. Testing is an important tool in helping manage COVID-19 so schools can remain open to educate our students. You will be receiving information about the SHIELD testing along with a form to sign up for weekly testing. Please complete the form and return to your student's school building. They will then be added to the testing roster. Testing is tentatively scheduled to begin the last week of September.

Parents, don't forget "Open House" at Bernard Long Elementary this Wednesday, September 15. Everyone has been given a specific time to come into the building to avoid having large crowds. Your child's teacher has scheduled a time for you to visit our "Open House." This time should have been communicated to you. Please contact the teacher if you don't have your time or if a better time would work for you. Looking forward to meeting you on Wednesday. Have a good evening!

Parents, I just want to remind you of the "Open House" on Wednesday, September 15 at Bernard Long Elementary School. You will get the chance to meet your child's teacher and see what they do each day. You will also be given information on what you can do outside of school to help your child be more successful. Please plan to attend. The time is from 5-7pm, however, your child's teacher will send you an invite along with a specific time for you to come to the building to avoid having large crowds in your child's classroom. Everyone entering the building must have on a face mask. I look forward to meeting you next week. Please contact your child's teacher if you have any questions. Thanks.

Madison Family, We would like to remind you that if your student is showing any COVID-19 symptoms please do not send them to school. Symptoms include; cough, nasal congestion, fever, runny nose, nausea, vomiting, headache or body aches. If your student has any of these symptoms we strongly encourage you to get them tested before sending them back to school. We realize this is inconvenient but to maintain a safe environment for students and staff we must take every precaution possible. Your cooperation will help us keep our schools open all year. Thank you

FOOD IS FUEL!!!! Madison CUSD #12 schools offer Free Breakfast and Lunch. Each student receives 1 free lunch and 1 free breakfast each and every day that school is in session. Breakfast is also available for students who arrive late; the student should go to the office and let the secretary know they would like to eat breakfast. Fuel Your Bodies So You Can Fuel Your Minds!!!!!!!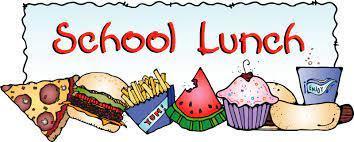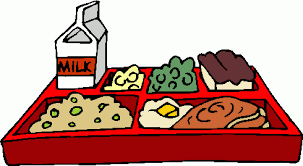 Good Evening Parents! Our students are dismissed from class at 1:55pm daily to be picked up from school or to walk home. Our bus students are also released at 1:55pm to board their bus to go home. If your child's transportation will need to change, please call the school to talk with a secretary by 1:00pm. This allows us enough time to get this information to your child's teacher and avoids any delays with pick up. Thank you for your cooperation.

Good afternoon Bernard Long parents! This is your new principal Mr. Marshall. We have exactly 7 days before we start school. Hope your summer has been fantastic! We plan to hit the ground running toward progression and improvement. I look forward to meeting you and working with your child. If you should have any questions, please don't hesitate to contact me at Bernard Long Elementary School. Enjoy the rest of your summer!

As the 2021-2022 school year is quickly approaching, here is a quick reminder about the importance of daily, on time student attendance. Attendance at school is important because students are more likely to succeed in academics when they attend school consistently. It's difficult for the teacher and the class to build their skills and progress if a large number of students are frequently absent. The attached image shows the effects of absenteeism on your child's educational success. We look forward to educating your child each and every single day.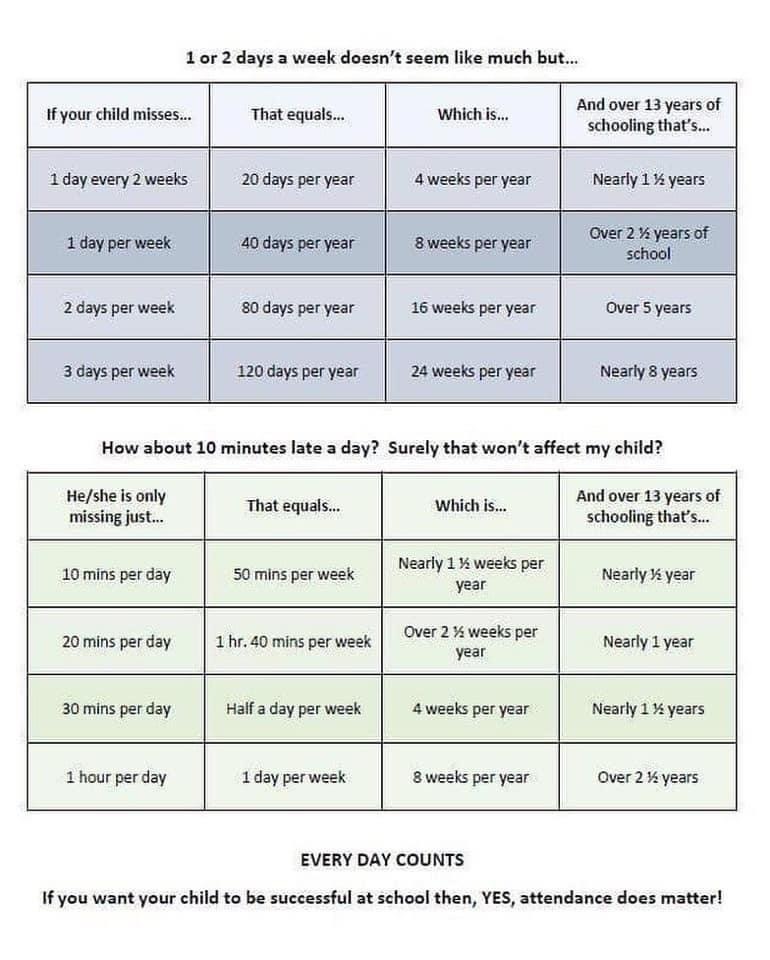 Good Evening Madison Jr. High School Spartans! This is your new principal, Mrs. Terrien Fennoy. Welcome to the 2021-2022 school year and a hearty welcome to the incoming 6th grade class. 6th graders, don't forget to join us tomorrow for "6th Grade Preview Day" from 10:00am-12:00pm. You will have an opportunity to meet the teachers, tour the school, walk through your schedule, and ask questions about your new journey into Jr. High. See you tomorrow at 10.

Madison Junior High School 6th graders and parents are invited to attend 6th Grade Preview Day on August 11th from 10:00 AM to 12:00 PM. See the attached flyer for more information.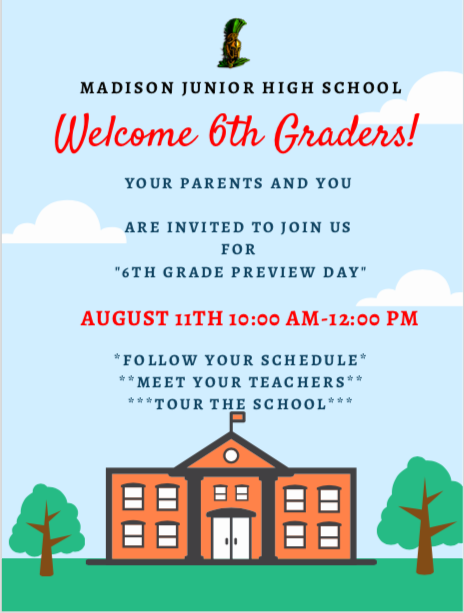 Back to School Giveaway will be held at Mt. Nebo 1634 7th on the parking lot. The time and date will be Sunday, August 1, 2021 from 12:00pm - 2:00pm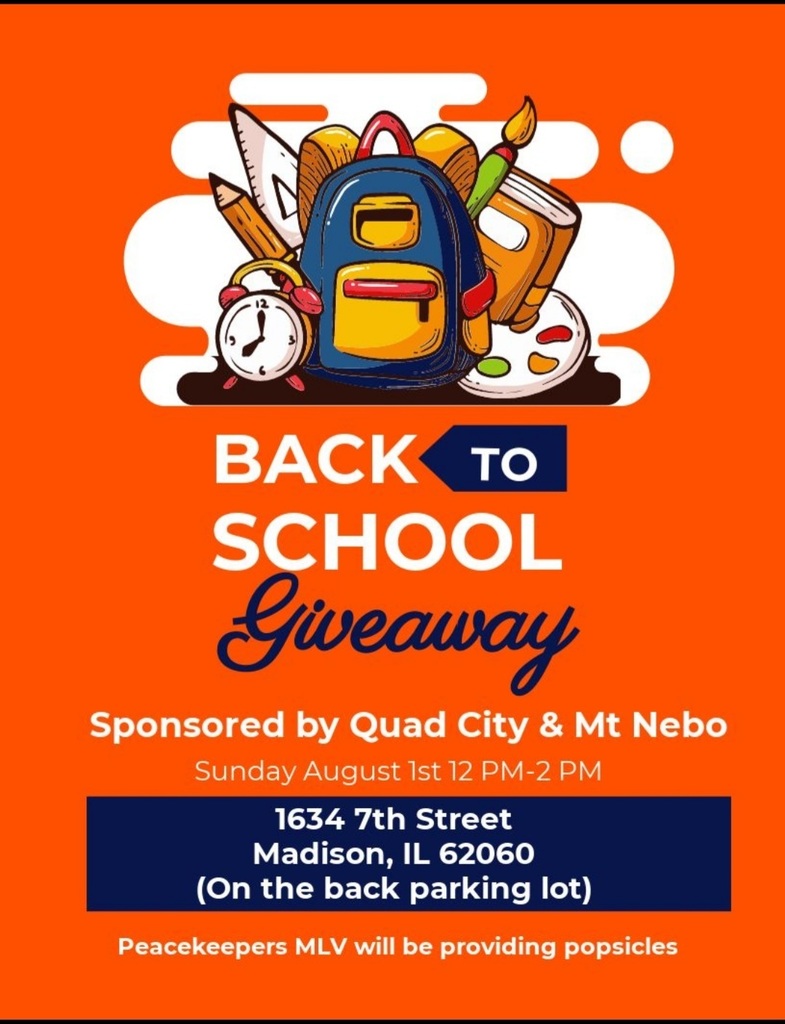 Dear Madison Family, We are looking forward to school starting on Wednesday, August 18th and are excited that all students will be back in-person for this school year. We are closely monitoring the guidance on COVID-19 from the State Board of Education and the Illinois Department of Public Health and are committed to maintaining a healthy school environment. At this time we are planning on having all persons wear masks while on busses and in the school buildings. As guidance changes we will update our policies and keep you informed of any changes. Registration for the 2021-2022 school year is now open online. You can access the registration through your TeacherEase account. If you have forgotten your login information you can email
registration@madisoncusd12.org
to have your login reset. We will also be having in-person registration on Wednesday, August 4th from 1:00p to 6:30p and on August 5th from 9:00a to Noon in the Madison High School cafeteria. A couple of reminders this school year; 1. Uniforms will be required this year. 2. Please make sure that your student's immunizations are up to date. 3. If you have not already done so, please return the district issued Chrome books you may have. We look forward to serving your family this school year. If you have any questions or concerns please contact either the Board office or your student's school at 618 877-1712.
Hello Bernard Long Parents, ALL incoming Kindergarten students are invited to experience learning through activities that will promote jumpstarts to literacy, math, fine motor skills, daily routines, and procedures. Join us for 4 Fantastic weeks of fun, beginning Tuesday July 6th and ending Thursday, July 29th. Sessions will be held from 9:00 - 11:30 a.m. Transportation will be provided. Call the school to register your child Today!

Free COVOD-19 clinic Long Elementary School Saturday , June 5th from 11:00am to 4:00pm.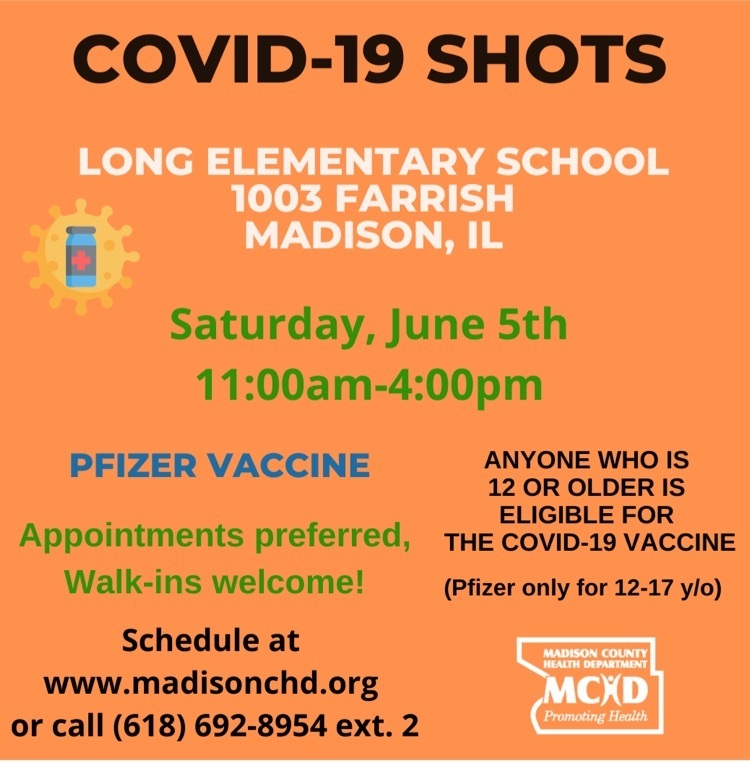 Madison School District is hosting a school clinic to administer COVID-19 vaccine on June 5, 2021 at Long Elementary School Gymnasium from 11:00 am to 4:00 pm. I have attached flyers for posting and the appointment link is at:
https://events.juvare.com/IL-IDPH/f99nc/
This link is already live on our website,
www.madisonchd.org
, and as of today only 31 appointments have been scheduled. Please promote this vaccination opportunity as much as possible to parents and staff this upcoming week. Appointments are preferred; but we welcome walk-ins too! This PFIZER vaccine clinic is open to anyone (Parents, siblings, Grandparents, students, etc.). As long as the individual is 12+ years of age, they can have a vaccine. Parents or legal guardian MUST accompany any minor child to receive the vaccine.

Madison Family, There is a food box give away today at Long Elementary School from 9:00am till all boxes are gone. Don't miss out, this is the last distribution till fall!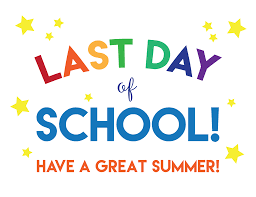 Madison Family, There will be a food box distribution at Long Elementary School Saturday, May 22, from 9:00am till all the boxes are gone. This is the food box distribution till fall.