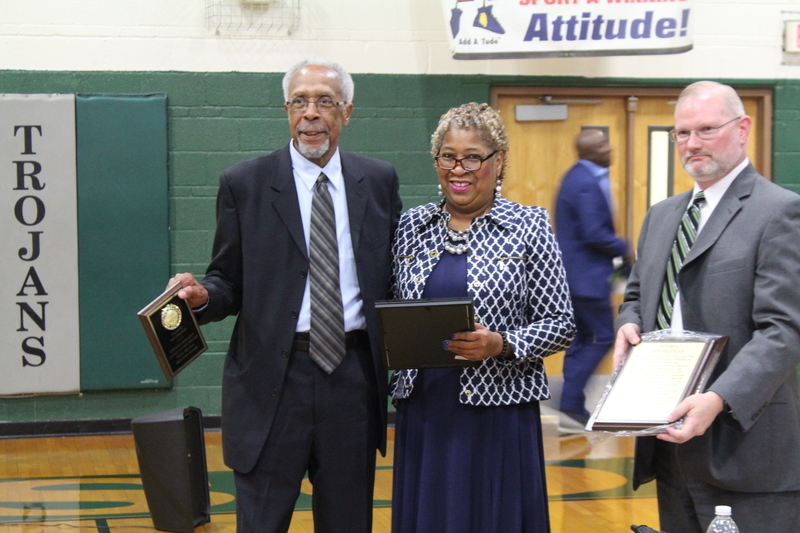 A Madison legend returned home to receive his just due Sunday, September 22, 2019. Thanks to Madison's Board of Education, the gym was officially dedicated in his namesake. "Never in a million years did I expect this to happen", stated Mr. Freeman. "Playing on the courts of Dunbar High School in Newport emboldened me to work hard and be the best player I could be."
The day before, he was inducted into the University of Illinois-Urbana basketball Hall of Fame. Don Freeman attended Madison High School from 1958-1962. Over 250 well-wishers assembled for the historical event. Fans traveled from near and far, including California, Florida, Georgia, Nebraska and Texas. Jack Holmes, Athletic Director, Marquette Alton and one of the panel speakers stated that "I can now personally thank Don Freeman for me being married to my lovely wife Judy; Judy, a cheerleader and Madisonian decided to attend U of I because she could see Don Freeman play basketball four more years."
Many of today's students pass by his picture in the gymnasium and have no clue of his contributions. Don Freeman was adored and loved by many sports fans. He was the type of person and player who brought ethnicities together in harmony. This was seemingly unheard of during the days of segregation.
Mr. Freeman and his team help place Madison on the map. There was only one Class 'A' system. In those days, Madison played large, medium and small schools. Arguably, the 1962 Trojans should have won Madison's first State Championship had it not been for controversial fouls called on Freeman early in the Sectional championship. Freeman fouled out in the third quarter. Freeman was an All-American, and holds the single-season all-time scoring record at Illinois.
Mr. Freeman was an excellent student throughout high school and college. His 1962 basketball team finished with an all time MHS best 28-1 record. He was inducted into Madison High School Official Alumni Hall of Fame, along with Rubin Perry and Leroy Jackson. Mr. Perry won three NAIA championships and was inducted into Naismith Basketball Hall of Fame, June 2019.
Mr. Freeman is a reserved, friendly, humble soul. He credits coaches Wade James, long-time Assistant Superintendent, CUSD 12, and Earl McClanahan, former Junior High Principal and teacher for instilling the work ethic and focus.
Mr. Freeman was an all-star in the former American Basketball Association (ABA), and star in the NBA before retiring with the Los Angeles Lakers. What Mr. Freeman is most proud of is his degree from the University of Illinois. The degree prepared him for a lifetime career after basketball in banking, where he still works for the Federal Reserve Bank, Omaha, Nebraska. He resides with his lovely wife, and has a son who played tennis in college. Mr. Freeman, congratulations, sir. You are worthy of the honor!